Even though my job requires me to be insanely organized (and when it comes down to it, I truly am), but you might be surprised to learn that my home office is a disaster zone that should be barricaded off for a Haz Mat team. It's
that
bad, my friends. What happened, you ask? We planned a wedding, that's what happened.
Since July of 2008, our office (which we share), and which also doubles as a walk-in closet for seasonal storage (gotta love city living!), became Wedding Central. It quickly filled up with vases, boxes of paper samples, crafting tools galore, envelopes, pens, markers, ribbon and favor boxes. After the wedding, we had full intention of making our home office our No. 1 priority, but that didn't happen because we went right into the birth of SH Weddings. Then, it got worse.
Now, our office is home to scraps of paper, old crafts that never got completed, extra invitations, menu cards and programs, and everything else that was leftover. My desk because a giant storage box, and even though Mr. Owl found motivation somewhere between the wedding and now to clean off his desk, I just couldn't find the time. My new work area consists of our couch and our bed, which is nice sometimes, but others, I crave a clean workspace.
This past weekend, I decided to do something about it. I really enjoy scrapbooking, and had folders of beautiful papers crumpled up in piles on top of each other. It broke my heart. It was overwhelming to figure out how to even start to form some sort of organized system, so I turned to the Internet for inspiration, and my good 'old standby,
Pottery Barn
.
Someday, when we have a house with an actual office, I hope it will look something like this: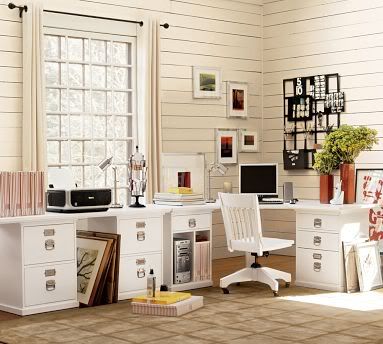 The Bedford
home office collection from Pottery Barn.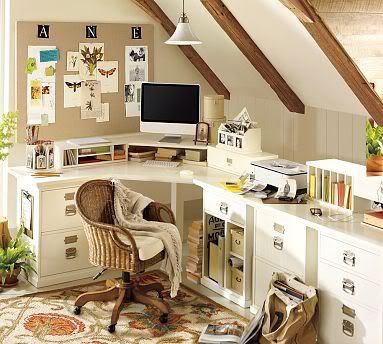 Also from
The Bedford
collection at Pottery Barn.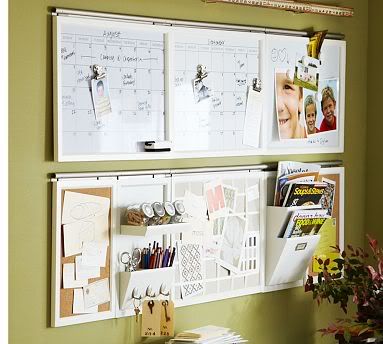 The Daily System
from Pottery Barn.
But for now, what I need are creative ideas for small spaces. Luckily, I currently have a desk from
IKEA
(that they no longer make), which offers plenty of vertical storage. For additional inspiration, I found these photos, all courtesy of
Real Simple
: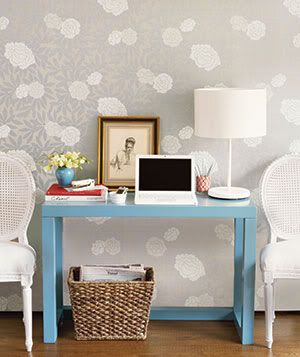 I like the idea of putting up a beautiful floral wallpaper behind my desk for constant color and inspiration. Being that we rent, it's not an option (boo!), but the idea is lovely. I also like the painted blue desk.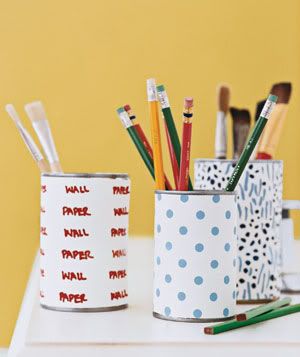 This is one idea I really think I'll use. Taking old cans and wrapping them in drawer liners is a brilliant idea. I'll have control over the colors and patterns, and it'll give me an excuse to look for the perfect paper. And, the cost-effectiveness is a huge plus.
Brilliant! A corkboard screen! Stylish and useful, I could plaster so many photos to keep me inspired, and then take them down when I've used the idea, or moved on to something else. It would be great for designing weddings for my clients, as it could also double as a real-life inspiration board for presentations. Love!
Most of these set-ups aren't quite possible right now, but they've given me a lot of really good ideas. My current goal is to just clean up and bring a little color and style to my work space and be able to maintain the organization. I got a start this past weekend, and you'll have to stay tuned to see what I came up with.