Hello, Owls! Since I had so much fun wrapping our Christmas presents this year, I decided to share some of them with you. I was going to wait until we shipped all our gifts to our families in New York, but what's the fun in that? I probably wouldn't be as on top of Christmas every year if we didn't travel so much. We usually have to ship out our gifts, and I want to make sure they arrive at their destination well before Christmas (because heck, part of the fun of Christmas gifts is the anticipation of guessing what they are and opening them, right?).
This year, I decided to use Kraft paper, which I bought at
Michaels
for about $4.50 for a large roll, some
Martha Stewart
partridge paper we bought last year on sale at
Kmart
and some Kraft paper printed with some leaves that we bought at
Target
last year on sale. I used primarily baker's twine, regular twine and cheap ribbon to tie everything with, and handmade cutouts to label all the gifts.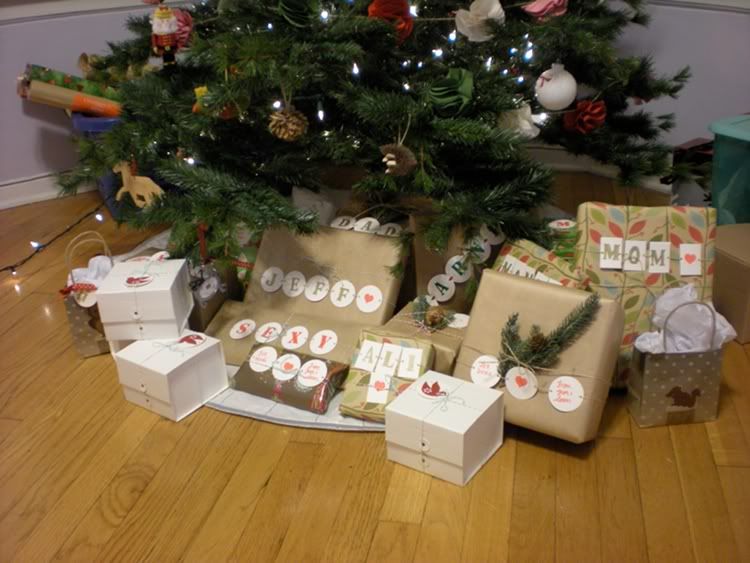 Presents for Mr. Owl! I used a 1-inch circle punch to create the, well, circles, and tied them together with twine and ribbon. The owl gift bag was part of a two-pack at
World Market
(the other gift bag was a cute squirrel).
Our dog Betty decided she wanted to model some of the other presents. I LOVED the gift boxes Anthropologie was giving out this year with gift purchases. They're a really pretty ivory color (and very sturdy, which is great for shipping!) with a tie closure. I thought they were pretty enough on their own, so I just added some baker's twine, and made my own tags with the hole punch and a
Martha Stewart partridge punch
.

So, umm, Mr. Owl and I sometimes call each other "sexy."
And finally, my tools.
I hope that inspires some of you to get crafty with your gift wrapping this year!